Your Neighbor, The Cartel Arms Dealer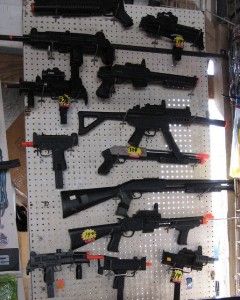 All kinds of people in the U.S. are illegally smuggling guns into Mexico — it's illegal for civilians to have firearms in Mexico — essentially arming the cartels that are slaughtering Mexicans by the thousands every year.
McClatchy had a good piece on the matter:
"Americans buying guns for Mexican gangsters…are a gamut of college students, jobless men, gun show employees, city workers — in short, the guy next door. The 'iron river of guns,' as the flow of assault rifles into Mexico has been called, is an irritant in U.S.-Mexican relations.
In Mexico, it's illegal to buy most types of weapons. Drug cartels, with their long tentacles into the United States, use their U.S. networks to snap up assault rifles and other weapons from gun shops and shows and bring them back over the border."
The long and the short of it is this:  The U.S. is complicit in the drug wars that find countless Mexicans dying each year. Mexicans who are going to school, coming home from work, out partying, just living life, who fall victim to gun battles between cartel members, or between the cartels and police/military. Does it say somewhere in the Second Amendment that the U.S.'s right to bear arms comes at the cost of civil war in another country?
I'm not going to get into gun control, but, if Mexico spirals out of control because of illegally-imported U.S. guns, it's going to kind of create a national security situation on our southern border, no? What's the answer, less regulation?
[Photo Courtesy NewsTaco]