Feeling LA Nostalgia In New Jersey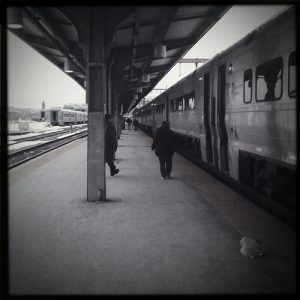 I now realize how naïve my left-sided, LA politics have made me. They do not mean much outside of California, particularly when it comes to gay marriage. I learned this the hard way on a recent trip to the far reaches of New Jersey, where this especially rang true.
My friend and I were visiting her sister in Newark and we both had allowed time to get the better of us. It was 1 a.m. and we were standing around at the Newark station trying to find an entrance. Apparently the station closes up most of its doors after midnight in order to get everyone to enter through a more centralized location.
We were soon joined by a frightened young man. He wore summer clothes and spoke with an effeminate voice that was complimented with head and wrist shakes. He wanted to stay close to us because he claimed we were the only normal-looking people still left in the station. He told us he was in Newark visiting his boyfriend, but could not stay in his apartment because his boyfriend's brother had shown up unexpectedly.
We reached what we thought was the centralized location. There was a young police officer chatting up even younger scantily-dressed women. The girls took deep puffs of their cigarettes and exhaled a sense of desperation that I could feel in my bones.
My friend and I argued over who should ask the police officer to confirm the location of the centralized entrance. My friend thought that the police officer would not take her seriously enough while I knew not to ask because nothing good can come from interrupting someone trying to get their romantic overtures on. This goes doubly when the person attempting to find convenient romance is holding a gun. The young man that was traveling with us grew tired of our bickering and decided to take the initiative to inquire. That did not go well. It went something like this:
"Excuse me… Excuse me, officer…"

"What did you just say?"

"Um nothing, I said excuse me."

"No, no! You said something!"

"I just wanted to know…"

"Well boy, I'm going to show you… how you done messed up."
My friend grabbed on to my forearm and guided me into the train station. According to the way it was explained to me, it wasn't about what the young man said, it was about the way he said it. He would have avoided himself the headache if he would have simply "butched-up" his voice. Apparently this is an overreaction to neighboring New York's reaction to allow same sex marriage.
The weird thing is that I never thought I would miss Los Angeles as much as I did. I even missed the Los Angeles Police Department. I do not remember hearing them terrorizing many people after neighboring states repealed laws.
I do not think that I will be returning to Plainfield, New Jersey anytime soon. I felt the same hopeless way I feel when I cross the border in Tijuana and there is someone being held up by immigration officials. I am too soft to exist out there. I can keep my head in the sand, but I do not know for how long.
Follow Oscar Barajas on Twitter @Oscarcoatl
[Photo By Ryan Vaarsi]