Lakers Host Noche Latina, Beat Suns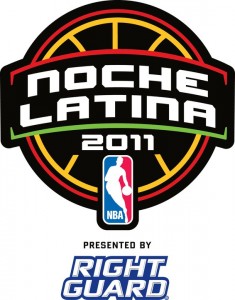 [Editor's Note: This post was written by LA-based writer Robert Lopez.]
The NBA hosted yet another successful Noche Latina last night. Latinos filled the Staples Center to capacity as the Los Angeles Lakers hosted the Pheonix Suns — with a Latin twist. Both teams donned their respective "Latin" jerseys: "Los Lakers" for LA and "Los Suns" for Phoenix.
Although it was a chilly evening in Los Angeles, it appeared to be red hot inside the Staples Center as both teams came out firing. Los Lakers found their stride early in the game and it seemed it would be an easy rout, however, Phoenix had other plans.
With Los Suns down 21 points, Steve Nash and Channing Frye ignited a rally that tied the game in the second half, pushing Los Lakers into overtime with a 9-0 run in the final three minutes of regulation.
The fans truly got their money's worth as both teams struggled to take control of the game forcing a double — and triple overtime. The crowd grew anxious as each team traded last-minute shots with each team coming close to victory. It created a nail-biter down to the final seconds when Ron Artest hit a fallaway jumper with less than a minute left and after Vince Carter missed an opportunity to tie it.
Kobe Bryant shot a floater that gave the Lakers the lead with .11 seconds left, capping a thriller at Staples Center 137 to 139. Bryant scored a season high 42 points and was one assist shy of a triple double while Los Suns' Channing Frye scored a career high 32 points.
This was only the fourth time Los Lakers had gone to triple overtime since moving to Los Angeles. Noche Latina was introduced during the 2006 – 2007 NBA season to honor and celebrate the league's Latino heritage with festivities and promotions. News Taco previously wrote about Noches Latina, as a way the NBA hopes to to tap into their huge Latino fan base, which is 1/6 Latino, and $1 trillion Latino market.
[Image Courtesy Facebook]