Michelada: Your Favorite Drink You Just Found Out About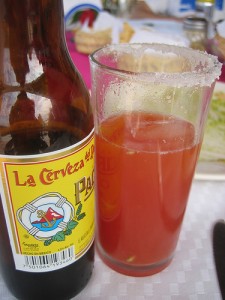 What's a michelada you ask? Well, I'm about to blow your mind, so I hope you're sitting down. An easy way to describe a michelada is that it's like a Bloody Mary but with beer. A better way to describe it is that you take everything that's great with food, and then eat it with beer instead of food. Yum!
What kinds of things you ask? Salt, pepper, chile powder, Tabasco/Tapatío/hot sauce, lime (limón), Worcestershire sauce (salsa inglesa) and for those who like that kind of thing, either tomato juice or Clamato. I prefer not to add tomato or Clamato (gross) but just the same I'm sure it tastes good to those who do.
So you (who are of drinking age) get a big glass, add ice, add your ingredients, then add your beer and then — ahhhhhhhhhh — the refreshment begins!
I recently was able to enjoy a yummy michelada with my Tío after not having had the pleasure for years. Ever since, I've been craving one to stave off the oppressive summer heat. I'm not going to say my way of making these is the best way, but what I will say is that you add what you like, then add beer, and I guarantee you that you won't be disappointed. So try it and let me know what you think.
¡Salud!
Follow Sara Inés Calderón on Twitter @SaraChicaD
[Photo By SheriW]