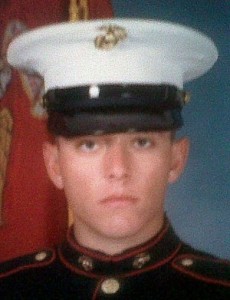 (Editor's note: We republish this article, almost a year to the day after it was first published; first in remembrance of a U.S. veteran, and secondly so that the incident is not forgotten. There has been no movement on the case – that we know of – in the last twelve months.)
By Sara Inés Calderón
An Arizona SWAT team shot 26 year-old José Guerena, 26, 71 times, wounding him about 60, as they executed a search warrant on his home. The former Marine who served two tours in Iraq was killed when he saw men with guns advancing on his home. Police accidentally shot a gun; the resulting confusion lead to Guerena bleeding out and dying in his own home. Police refused to allow medical personnel in to help save his life. The Daily Mail reported:
An ambulance reportedly arrived in a few minutes, but medical personnel were not allowed inside to see Mr Guerena for an hour and 14 minutes, the family's attorney, Chris Scileppi, told ABC News affiliate KGUN.
Police involved in the Tucson SWAT raid in the neighborhood, three other homes fell under the warrant, apparently did not identify themselves to anyone inside the home. The result is that Guerena, who managed to avoid being killed in Iraq, was killed in his own home after coming home from a 12-hour shift in a mine. The Arizona Daily Star reported:
Guerena's role in the narcotics investigation is unclear and deputies would not comment on what was seized from his home…

Vanessa Guerena says she heard noise outside their home about 9 a.m. Thursday and woke her husband who had just gone to bed after working a 12-hour shift at the Asarco Mine, she said. There were no sirens or shouts of "police," she said.

Guerena told his wife and son to hide inside a closet and he grabbed the AR-15 rifle, his wife said.
His wife insists there were no drugs in their home, and police have yet to prove otherwise. It gets even worse, as apparently the police were the ones who shot first, by accident:
Apparently one of the SWAT team's deputies accidentally fired his gun, leading to confusion.
This is a pretty egregious case of police brutality and racial profiling, if you ask me. I can't imagine the terror this poor woman and her son experienced, listening to her husband die, pleading for help, being ignored and treated like a criminal as he lay bleeding out on his own carpet.
[USMC Photo Via]