Tag Archives: whites
Powered by Max Banner Ads
By Hope Yen, Associated Press/NBCLatino
[Photo by ThisParticularGreg]
Click on picture to read story.
A new Allstate/National Journal Heartland Monitor poll found that Hispanics are less concerned about the rapidly changing demographics of the U.S. population than whites or blacks.
The poll released on Friday is the ninth in a series that examine the implications of the changing face of America on the economy.
This time around the survey explored the opinions of whites and minorities over what it takes to succeed in today's economy, the role of government, the degree of opportunity available to them, and society's success at providing an equal chance to all.
"This poll offers many reasons for optimism that more diversity in America is not guaranteed to produce greater division, but it also underscores the risk that racial and ethnic divisions could reinforce the ideological and partisan splits we're already experiencing," said Ronald Brownstein, Editorial Director of National Journal Group.
White and minority respondents agreed on several points, mostly economic and the role of government.
"It found that the white and minority communities are mostly united in the belief that the free market creates more opportunities than problems, that America has made progress in opening doors for all, and that individuals' fates are determined more by their own efforts than by large economic or social forces (such as racial discrimination) that are beyond their control," according to a National Journal article.  "White and minority respondents alike ranked racial and ethnic tensions as a lesser source of domestic division than economic or partisan conflict."
However, opinions were markedly different over the question of "whether the demographic changes recasting the face of the nation generate more benefits or costs."
Hispanics and Asian-Americans in particular felt that the benefits of the rapidly changing demographics of America outweighed any costs.  But whites and African-Americans felt that the change in population "is happening too quickly."
With the U.S. population projected to become "majority-minority" by 2042, the polls provides a framework for what adjustments should be made to the public policy agenda to create pathways to opportunity.
References:
Hispanic PR Wire
[Photo By OregonDOT]
The government is on the verge of a shutdown as Republicans and Democrats have been unable to come to an agreement over the budget.
A beheaded bald eagle was found in a ditch in Louisiana; authorities are investigating.
The fight over union rights continued in Wisconsin yesterday when supreme court candidates faced off, resulting in an election too close to call.
The population of white children is declining; by the end of the decade they will be the minority.
The teenager birth rate in the U.S. dropped; even though Latina and African-American women are 2-3 times more likely to give birth as teenagers than whites.
[Photo By John Schanlaub]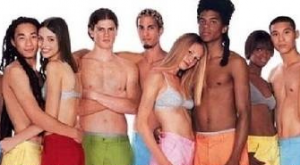 There are more than 5 million people who identified themselves as "multiracial" in the last Census, according to preliminary estimates. This is a 20% increase from the year 2000 and it comes at a time when people are increasingly mixed up as a result of love and procreation that the idea of "one" race is becoming irrelevant. I would argue that the idea of race has always been irrelevant — taking Latinos as an example, the Spanish were already mixed with the Romans and the Moors before they even began the big mixing that took place in Latin America, which is a whole different story.
Yet, in the U.S., race continues to matter — a lot. Slate.com's Gene Lyons had something interesting to say about President Barack Obama's choice to check "black," even though he's multiracial:
This decision disappointed a unique student group at the University of Maryland, although most understood it. Recently profiled in the New York Times, the self-styled Multiracial and Biracial Student Association could with equal accuracy be called "Students Whose Mothers Were Asked Insulting Questions by Busybodies at the Supermarket"…

My view is that absent extreme circumstances, race never tells you anybody's story…
Definitely interesting points, probably starting a conversation that will continue to pervade the U.S. popular consciousness for many years to come.
[Photo By Shockadelic]